[thrive_headline_focus title="Market Correction? Hold on to your socks!" orientation="left"]
As of the close of the market yesterday February 5, the S&P 500 has suffered a loss of 6.2% from its high on Jan 26, 2018 .  All other major indices have followed this downward trend. After we have been telling you for months that the market was going to be due for a major correction, has the time come?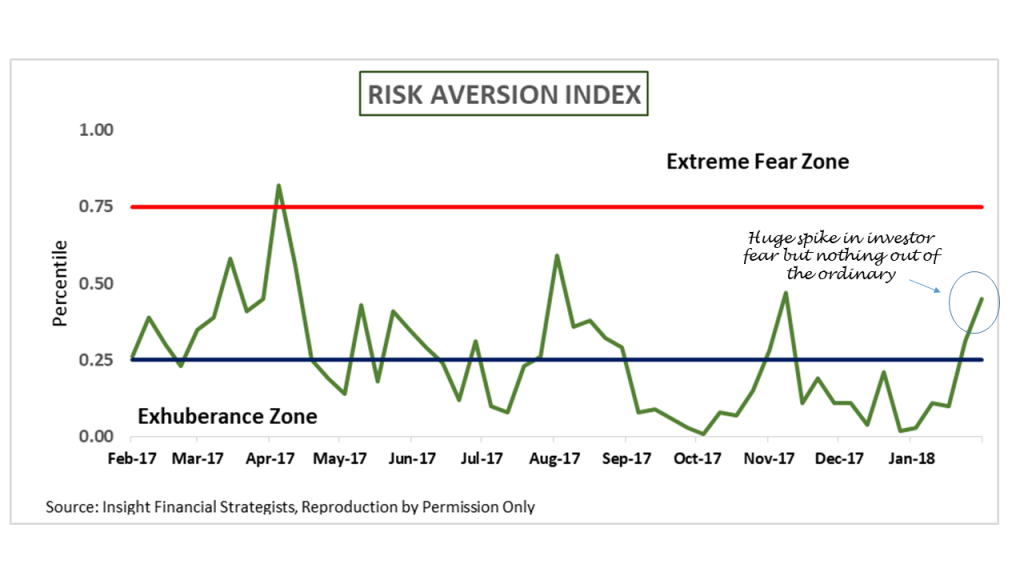 One of the ways that we gauge market risk is by observing our proprietary Risk Aversion Index . It has started to show "normal" behavior compared to the last few years when  it was indicating a lot more complacency to risk than average.  Clearly market participants are feeling antsy.  However, according to the risk measure, it is too early to draw conclusions.
We have not experienced meaningful corrections in the recent past. However it is worth remembering that according to American Capital historically 5% corrections happen 3 times a year on average, and 10% corrections happen once a year on average .  The current correction may just be a long overdue reminder that we are not entitled to volatility free financial markets.
Just two weeks ago the consensus was that we were going to experience a continuation of the bull market at least into the early part of this year. This is still our view. Although the stock market is a leading indicator, at this time this correction does not appear to be a recession driven correction.
A Last Word
When it comes to your investments, verify that your investment profile matches your financial planning profile . That would not insulate you from market corrections. However, matching investment and financial planning profiles would help ensure that you are taking the appropriate amount of risk given your goals and time horizon . If you haven't measured your risk profile in a while, you may do so at this link.  Unlike the stock market, it is risk free!